Warning: Use of undefined constant user_level - assumed 'user_level' (this will throw an Error in a future version of PHP) in /customers/7/3/c/hastfriskvard.se/httpd.www/wordpress/wp-content/plugins/ultimate-google-analytics/ultimate_ga.php on line 524
Idag var jag med en av mina riktiga stammisar:) härliga Lindha Svensson med sin Willy till Husaby Hästklinik.
Efter en ganska långdragen historia är han nu friskförklarad och det är bara att rida på. Är så himla glad för deras skull:) Nu kan de äntligen få komma ut och tävla, något som de har längtat efter lika mycket båda två.
Jag önskar dem ett stort LYCKA TILL!!!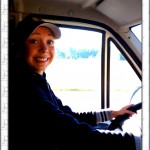 Lindha tar oss tryggt och säkert till Husaby:)